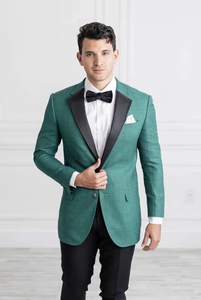 How to Suit Up for a Holiday Party
'Tis the season for toys in every store and parties around every corner. Depending on the weekend, you may have multiple parties to attend. For every occasion, you'll want to have something different to wear, especially if you'll be seeing some of the same people. Here's our guide to suiting up at holiday parties. 
Double Check the Invitation
Does the invitation to the party say black tie, black tie optional, or creative black tie? This will give you an idea of how to dress. For a black tie required party, your options are somewhat limited to a black tuxedo with a white collared shirt and a bow tie. If the dress code allows, consider subtle festive accessories like shimmery pocket squares, shiny bow ties or jeweled cufflinks. Find subtle ways to incorporate seasonal colors like green, red, blue, gold and silver. Or, if there's a loose dress code, go all out! 
Step Up Your Style Game
If you're attending a work party, this is an opportunity to step it up from what you would wear on a typical workday. A party among friends, even an informal one, still gives you a great opportunity to show off your sense of style. Treat this occasion as a step or two up from cocktail hour. Wear a tailored suit or tuxedo with a custom lapel in a different texture or color that stands out while adding a touch of class. 
Consider the Weather
Going to an outdoor party? Sometimes, even a tuxedo isn't enough to protect you from the cold. You definitely don't want to be shivering — or worse, wearing a coat that's out of style. Make sure you have a proper overcoat, and mind your accessories. Don't be caught in reindeer socks at a black tie event because they're the only warm ones you have. If it's not as formal of an occasion, consider wearing a roll neck sweater under your jacket to keep warm. 
The holiday season gives you the perfect excuse to dust off a tuxedo or use a custom lapel to up your suit game. Discover the variety of lapels that The Lapel Project has to offer, or connect with us online to make a custom order. We're here to make men's fashion accessible, affordable and flexible.
---