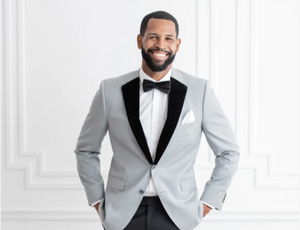 5 Essential Tuxedo Accessories and Why You Need Them
Wearing a tuxedo is not a matter of taking one off the rack, putting it on, and heading out. Tuxedos can up your style game, but they won't shine on their own. You need to consider the accessories you'll be wearing to make your look complete. Learn about five essential tuxedo accessories and why you need them for your next big event. 
Bow Tie
A bow tie is what ties the tuxedo together. Start with a classic black satin bow tie, especially if you're planning to attend black tie events. Then, venture out into different colors and textures. Velvet bow ties can create a more luxurious look to make you stand out from the crowd. Before experimenting with colors and patterns, check the dress code of the event you're attending. For some functions, a lavender patterned bow tie may not be appropriate, while for others, you can get as creative and colorful as you wish. 
Lapel Pin
You don't need a lapel pin, but they can be a great way to express your personal style without going too far beyond the boundaries of an event's dress code. These pins can signify affiliation with a group, such as the military or a family. Some choose to go with live flower pins for celebratory occasions. There's also an option right in between — an abstract fabric flower that matches the style of your suit. Whatever lapel pin you choose, it's sure to add a layer of style to your tuxedo. 
Cufflinks
If you're looking for a subtle note of sophistication, look no further than cufflinks. This accessory is traditionally meant for black tie or white tie events. While these are meant to hold the shirt cuffs closed if the buttons aren't sewn directly onto the shirt, they can also be worn on top of existing buttons. Just make sure you're hiding the buttons well if they are present, or consider removing them carefully before placing the cufflinks on your sleeves.
Lapels
Buying a tuxedo is a major investment for most people. So naturally, you want to get the most wear possible out of your tuxedo. One way to do this without committing a fashion faux pas is by changing up the lapels. Thanks to your friends at The Lapel Project, you can change up the lapels on any tuxedo — or even on a regular suit to give it a tuxedo look! You can select from the existing collections or order a custom lapel that suits your personal style. 
Loafers
Sure, you could always wear lace up shoes, but who has time to tie their shoes? A comfortable, versatile pair of loafers can complete any tuxedo look. You can even find velvet loafers, which add another layer of style for special occasions. Whether you're going for leather or velvet, loafers can be the perfect shoe to wear to your next big event. 
Men's fashion provides plenty of outlets for self-expression; you just need to know where to look. Discover the variety of lapels and accessories that The Lapel Project has to offer, or connect with us online to make a custom order. We're here to make men's fashion accessible, affordable and flexible.
---