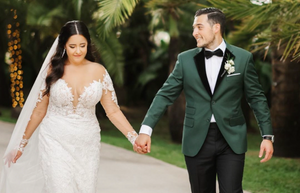 Best Tuxedo Accessories to Wear to a Wedding
Going to a wedding involves a great deal of planning. Even if you're not in the wedding party, you need to figure out travel, gifts and, most importantly, what to wear. Once you pick the perfect suit or tuxedo, you're still not quite done. You need to choose accessories that will make your outfit memorable to your loved ones. These are some of the ones we recommend:
Loafers
When you're considering your outfit for a wedding, shoes may not be the first thing to come to mind. However, when the day involves traveling, walking around, dancing and who knows what else, comfortable but stylish shoes are essential. A classy pair of loafers can provide the versatility you need without skimping on style.  
Pocket Square
Small details can make a big difference when it comes to making an impression on wedding guests. Pocket squares add a pop of color to the traditional suit or tuxedo. They can be solid or patterned, bright and vibrant or muted and subtle. There are many varieties to choose from, and these pieces of fabric provide an affordable option that can make your outfit memorable. 
Bow Tie
If you've chosen to wear a tuxedo to a wedding, a bow tie is an essential accessory. Nothing ties a tuxedo look together like a bow tie. Your bow tie can match your tuxedo, or you can use it to show off a bit of your personal style. Keep in mind that you are attending a wedding, so you will want to go with a muted, classy look over a more vibrant option. 
Cufflinks
Another classic accessory for anyone wearing a tuxedo is the cufflink. Cufflinks have staying power, especially if you buy them in silver or another traditional color. You need cufflinks if you're wearing a shirt with French cuffs, but they're good to have, even if you don't necessarily "need" them to complete your outfit. 
Custom Lapels
Did you know that you can get a tuxedo look without actually buying a tuxedo? With custom lapels, you can take a tailored suit to another level. They can also be used to accessorize a tuxedo, making this traditional style of suit wearable over and over again.
A wedding is one of the most special occasions in your life, so naturally, you want to look your best to celebrate. Discover the variety of lapels and accessories that The Lapel Project has to offer, or connect with us online to make a custom order. We're here to make men's fashion accessible, affordable and flexible.
---