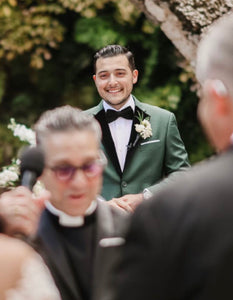 Formal Wear Trends to Look Out for in 2023
Preparing for a formal event, especially your own wedding or prom, can be intimidating. It's hard to know what's trendy when those trends seem to change every other month! You may not know if the tux or suit you wore five years ago could still work at an event today. While you plan out your social calendar for the rest of 2023, take some tips from our guide to current men's formal wear trends. 
Bow Ties Over Neck Ties
While neckties can often be seen in the office and on politicians, bow ties are dominating the men's formal wear scene. Bow ties have gone beyond weddings and black tie events; they're even becoming more popular to wear in professional settings. Unlike neckties of varying thickness, bow ties are truly timeless. You can never go wrong by opting for one for your next formal event. 
Loafers Rising in Popularity
Most men still wear shoes with laces to formal events, but loafers have been experiencing steady growth since 2020. Loafers offer more comfort and versatility than their lace-up counterparts. If you find the right pair of loafers, you can easily wear it to work, to formal events and out on the town. We believe these shoes will continue to grow more popular as men seek out their comfort and convenience.
Suits with Earth Tones 
Tans, blues and other neutral colors are becoming more popular for those looking to express themselves while looking their best. Most suits you see around are still black, but solid-colored and even printed suits are gaining popularity. Men's fashion is moving in a direction with traditional roots that veers away from feeling one size fits all.
The Tuxedo Look is Back
In 2020, demand for tuxedos and suits was about even, but from 2020 onward, demand for tuxedos grew. Why? The reduced number of formal events due to the pandemic has caused a shift in the opposite direction. More people are gravitating towards higher-end luxury looks (even those on a budget) so they can enjoy the events they've been waiting for! Tuxedos exude luxury and formal fashion, and when you have fewer opportunities to attend events, you want to bring your A-game to each one. 
The good news: you don't have to break the bank to get the tuxedo look. Thanks to the Lapel Project, you can turn any suit to a tuxedo by adding your own lapels. All styles of lapel have their place, but peak lapels, widely considered the most formal style, saw slightly more demand than their notched and shawl counterparts in 2022. 
Looking to stay on trend or change up your look? Now is the perfect time to reinvent your formal style. Discover the variety of lapels and accessories that The Lapel Project has to offer, or connect with us online to make a custom order. We're here to make men's fashion accessible, affordable and flexible.
---