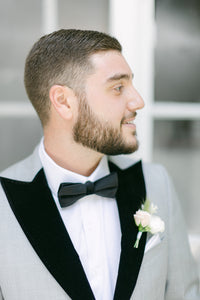 How to Customize Your Suit for Maximum Impact
When you buy clothes, you don't typically change them after the fact. However, suits are built to be customized! You can make a store-bought suit your own in many ways. With the help of an experienced tailor (and in some cases, without one), you can elevate an existing suit and use it to showcase your personal style. Here are a few customization options we recommend. 
Get it Fitted
The first and most obvious step for making a store-bought suit your own is taking a trip to the tailor. Get your suit and yourself measured, and the tailor will make the proper adjustments. This can be pricey depending on how much alteration is needed, but it will be worth it when you feel your best in your perfectly fitting suit. 
When buying a suit, keep in mind that a tailor can make a jacket smaller, but "taking it out" and making it bigger is generally a myth. Buying a suit that gives you a little bit of breathing room is the best bet, as the more it needs to be tailored, the less likely you are to achieve an optimal result. Pants have a little more leeway, but you should still go with pants that fit well already. 
Switch Out the Lining
To get the lining in your suit swapped out, find an experienced tailor. Taking this step can add a touch of class to an otherwise ordinary jacket. Even though most people who see your suit will never see the lining, you'll know that you have something special. If you're not a designer yourself, consider asking the tailor for color recommendations to avoid a customization that doesn't work the way you'd hoped. 
Consider Accent Stitching
Accent stitching is stitching that appears on the outside of the suit. Traditional off-the-rack suits won't feature this type of detail, but it's often found in more expensive custom suits. Look at a few different options before deciding if you want to go this route. It can be done, and it can look great, but it may be an expensive alteration to make. If you pull it off, this can give your suit a customized look that will stand out in a crowd. 
Change Up the Lapels
If you really want your suit to shine, add lapels! Transform your suit in seconds with ready-made lapels from The Lapel Project to get a tuxedo look and showcase your personal style. You can choose from a wide selection of stylish lapels or create your own custom design. The best part: you won't need to call a tailor for this one. Although, if it's a sew-on style lapel, and no one in your home knows how to sew, you might benefit from bringing it to a pro. 
Any suit can shine with the right custom details. Discover the variety of lapels and accessories that The Lapel Project has to offer, or connect with us online to make a custom order. We're here to make men's fashion accessible, affordable and flexible.
---