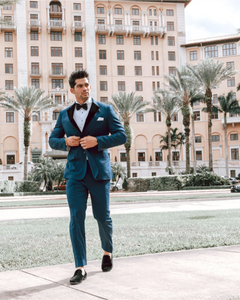 The History of Loafers — a Tuxedo's Perfect Shoe Pairing
Americans say they invented loafers in the early 1900s after traveling to Norway. The British claim that they introduced the style for King George VI in the 1920s. However, Native Americans had an equally valid claim, as they wore moccasins (or Makasins) that resembled the earliest loafers starting centuries earlier. Wherever they came from, loafers have always been a great way to complement a tuxedo or suit. Read on to learn more about their history. 
Birth of the Penny Loafer
In 1936, G.H. Bass, a brand that's still around today, became the first company to sell loafers commercially. The shoes were named Weejuns in honor of the Norwegian fishermen who inspired the penny loafer style. The "penny loafer" name may have originated from children carving holes out of the shoes to store pennies, or it may have been a belief that keeping a penny in your shoe was a symbol of good luck. Penny loafers were quickly adopted by Ivy League college students and then by younger adults and children around the country. 
Tassel and Gucci Loafers
In the 1940s, Alden Shoe Company introduced the Tassel loafer, a more formal alternative to the penny loafer. This style of loafer is known for the leather tassels you'll find on the front of the shoe. Men and women alike embraced this new shoe style. Then came the Gucci loafer, which quickly became a symbol of class among loafer fans. Inspired by Aldo Gucci's love of horses, the Gucci loafer swaps the tassels for a horse-bit accent. The Gucci loafer also helped bring the loafer into bigger popularity for women rather than solely men.
Moving into the 21st Century
Loafers continued to be popular from the 1950s into the early 2000s, during which time they were worn by prominent figures such as John. F. Kennedy, James Dean and Elvis Presley, and made their way into the cultural zeitgeist in a big way. Now, men and women love wearing these stylish shoes in formal and informal settings alike. Today, loafers are worn with just about any type of outfit.
Loafers and Tuxedos
From the very beginning, loafers have been a staple of formal wear. If you want to look good and move around in comfort, loafers are a great option. When you're on the move, lacing up shoes can slow you down. You can find loafers in different colors and textures that complement your look, though black or brown are generally preferred at formal gatherings. 
The Lapel Project offers all the essential tuxedo accessories, from bow ties to loafers and more. Connect with us online to start building your perfect tuxedo look. We're here to make men's fashion accessible, affordable and flexible.
---