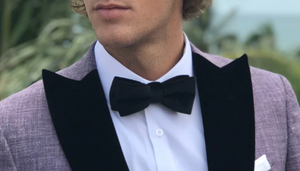 Tuxedo Styling 101: How to Tie a Bow Tie
Imagine this: it's almost time for the next big event. You've picked out the perfect tuxedo or created your own tuxedo look using easy-to-apply lapels. All that's left is figuring out how to style it. Traditionally, tuxedos are worn with a plain white dress shirt and a bow tie. There are sometimes fears around bow ties — namely how to tie them. No need to fear! Tying a bow tie isn't trickier than tying other ties. Here's a handy guide: 
Step 1: Cross the Ends Over Your Neck
To make sure your bow tie will fit once you've tied it, start by placing it on yourself. Hang your bow tie flat around your neck, keeping one side a little bit longer so they're even when crossed over. Then, cross the longer side over, keeping it close to your neck. 
Step 2: Tie a Loose Knot
Keep bringing the longer side up behind the shorter side, creating a loose knot. This knot is only the first one; make sure it's not too tight. 
Step 3: Start Creating the Bow
Form a bow tie shape by folding the end of the loose side over itself to the right. If done correctly, the fold should be between the points of the collar.
Step 4: Drop the Other Side Over
Drop the side of the bow tie that's on the inside over the bow tie shape you've created. This is an important step that will ensure that your bow tie looks right at the end.
Step 5: Loop it Over
Next, fold the bow tie shaped side over, putting it through the loop you created. Now, you're starting to form the classic bow tie shape. 
Step 6: Pull it Through
Continue pulling the bow shaped side through the loop. At this point, you should have an approximate bow tie shape in the front and back. 
Step 7: Tighten and Adjust
You're almost there! At this point, pull on each side simultaneously to tighten and create the perfect bow. 
And voila! Now you've perfected your bow tie tying skills and are ready for any prom, wedding or black tie event that comes your way. You've added the perfect finishing touch to your tux. 
After all this, you may be wondering, is there another way to accessorize a tuxedo or a suit? We have great news for you — there is! You can make it your own by adding lapels. Discover the variety of lapels that The Lapel Project has to offer, or connect with us online to make a custom order. We're here to make men's fashion accessible, affordable and flexible.
---