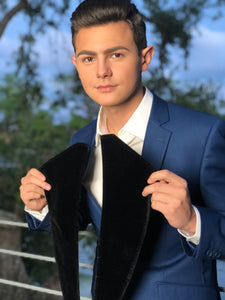 What's the Difference Between a Suit and a Tux?
"Should I wear a tuxedo to this event or a suit?" This is the age-old question that men have been asking themselves for centuries. While the finer points when to wear them have changed, the differences between suits and tuxedo jackets have stayed relatively the same! However, to the untrained eye, it can be hard to distinguish between the two types of men's dress attire. Here are a few ways you can tell a suit and a tux apart:
Tuxedos Have More Satin
If you want to differentiate between a tuxedo or a suit in the wild, look at the lapels. A tuxedo has a satin lapel, which will be easy to spot. Tuxedos also have satin buttons and often have satin stripes over the jacket pocket, as well as down the pant leg. Some modern tuxedos limit the amount of satin, so the distinction is seen as thin stripes on the lapels and pant legs. The only exception to the satin rule is a "Tropical Black Tie" aka white dinner jacket. These jackets have a 1-button front, self flap pockets, and a self shawl lapel. (They're still technical tuxedos, but not ones that have satin.)
How They're Worn
Traditionally, there's only one way to wear a tuxedo, and that's with a self-tied bow tie. However, many men now opt for long ties and vests to accessorize their tuxedos when going for a less formal look. There's also the option of custom lapels to make tuxedos wearable on more than one occasion. Suits are more flexible by default. They can be worn either with or without a tie, depending on the circumstances. They are generally easier to dress up or down. While tuxedos almost always call for white collared shirts, suits can be worn with a wider variety of dress shirts. 
When to Wear a Suit vs. When to Wear a Tux
You want to look your best, so you may be wondering when you should wear a suit and which events call for something more. At most events that require dressing up, a suit is acceptable. Suits are fine for business and semi formal occasions, but they're not OK for black tie events. In most cases, the invitation will specify the dress code, especially if it's a black tie event. 
Many men only wear a tuxedo twice in their lives — on prom night and on their wedding day. The rule of thumb is that tuxedos should be worn at black-tie events. Some events are black tie optional, and these present the perfect opportunity to up your fashion game. Best of all, you don't have to invest in a tuxedo for that tuxedo look.
What About a Third Option? 
What if you want to stand out in the crowd, but it's not a tuxedo occasion? Or what if you don't want to spend hundreds of dollars on a tux that you'll only wear once, twice at the most? That's where The Lapel Project comes in. Our ready-made and custom lapels can upgrade any suit or make the same tuxedo look new the second or third time you wear it. You don't have to make a huge investment in a one-time tux, rent an expensive outfit for one night, or settle for a tux that only gives you one style option. 
Looking to upgrade a suit or change up your look in a tux? Discover the variety of lapels that The Lapel Project has to offer, or connect with us online to make a custom order. We're here to make men's fashion accessible, affordable and flexible.
---