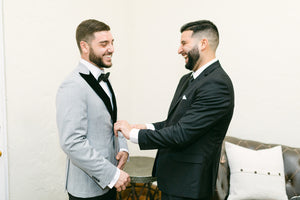 Tuxedo Alternatives for Style on a Budget
The high cost of tuxedos is a well-known fact in the world of men's fashion. This can make black tie events pricey if you're constantly having to rent a tux. Being fashionable doesn't have to be cost prohibitive. Different styles of jackets, accessories and lapels can save the day when you're not ready to buy another tuxedo. Here are the tuxedo alternatives we recommend: 
Smoking Jacket
Tuxedos may be the most sought-after style in black tie fashion, but there are always other options. Smoking jackets, which inspired the original dinner jacket, are a popular alternative to the traditional tuxedo coat. Authentic smoking jackets are double-breasted or single-breasted dark-colored jackets with frog closures and shawl collars. Contemporary ones are basically tuxedo jackets that use velvet instead of satin. 
Waistcoat and Bowtie 
You can look black-tie appropriate without a tuxedo. Wearing a waistcoat and bowtie can give you a touch of class, even in a regular black suit. If the event is strictly black tie, go with a black waistcoat and bowtie. If it's a creative black tie affair, use the waistcoat or bowtie to add a touch of color or a subtle pattern. Generally you'll want to stick with a white shirt unless you're attending a less formal event.
Adding Lapels
Lapels can make all the difference in your black tie look. Maybe you plan to rent a tuxedo, but you don't want it to look like a rented tuxedo. Or maybe all you have is a suit, but you're going for the classic tuxedo look. Adding a pair of removable peak lapels can bring new life to a suit or tuxedo, even one you've worn many times before. Be black tie ready without breaking the bank. 
With the right accessories, you can arrive in style at your next black tie event. Discover the variety of lapels and accessories that The Lapel Project has to offer, or connect with us online to make a custom order. We're here to make men's fashion accessible, affordable and flexible.
---